---
Little description / Short texts / Summary / L'Instinct de Mort & Public Enemy No.1 / Based on a true story / Released in 2008
The true story of one of Europe's most infamous and charismatic criminals comes to a close in this drama based on the life and crimes of Jacques Mesrine. Picking up where L'Instinct de Mort left off, L'Ennemi Public No. 1 begins as Mesrine (Vincent Cassel) returns to France after an exile in Canada. Teaming up with gunman Michel Ardouin (Samuel Le Bihan), Mesrine masterminds a series of armed robberies, and while he's able to stay one step ahead of the law most of the time, eventually he finds himself back in prison, where he makes friends with the clever François (Mathieu Amalric). With François' help, Mesrine breaks out of prison and becomes something of a celebrity, penning an autobiography, hob-nobbing with the wealthy and trying to paint himself as a political radical with the help of leftist spokesman Charlie (Gérard Lanvin). Mesrine also renews his relationship with his girlfriend, Sylvia (Ludivine Sagnier), but he also turns his back on some of his old friends and underestimates the determination of the French police to stop him once and for all. L'Ennemi Public No. 1(aka Public Enemy No. 1, Part 2) went into release in late 2008, while the wildly successful L'Instinct de Mort was still playing in French theaters.
Resource Unknown /
Public Enemy Nr.1 / Vincent Cassel / Director - Jean Francois Richet / France / Paris 
What goes up must come down, but the life and times of felon Jacques Mesrine provide a splendidly cinematic finishing move with "Mesrine: Public Enemy #1." The second half of an explosive bio-pic, the closing chapter carries a bleak tone, resembling a death row march, but the volcanic filmmaking remains in a state of alert, observing the titular crook swell up with defiance and excessive bravado, while the cops make a push to hunt down and end Mesrine's criminal reign.
Fully entrenched in his unlawful ways, Mesrine (Vincent Cassel) finds renewed motivation as the world press builds his legend, gifting his bank robbing exploits front-page headlines and television coverage. While the notoriety sends Mesrine back to prison, he finds an escape artist named Besse (Mathieu Amalric) to help him plan another breakout, further enraging law enforcement officials. Losing himself to ego, increasingly daring acts of kidnapping, and political grandstanding, Mesrine torches the critical support of his underworld brotherhood, leaving the thug with his mistress, Sylvie (Ludivine Sagnier), and the weight of his misbegotten life to confront as the police close in.
Further exploring the contemptible behavior of Mesrine during the 1970s, "Public Enemy #1" doesn't precisely pick up where "Killer Instinct" left off, instead slightly downgrading the tumultuous tone of the first installment to one of solidifying fate. The film opens with Mesrine's final moments, working backward back in time to his most brazen acts of escape, including one escapade that finds the crook pulling a gun in court, making a run for freedom in the lion's den of justice. Director Jean-Francois Richet sustains a furious tone of suspense and bullet-happy action, finally reaching a heated point in Mesrine's life where he found himself unstoppable, allowing the visual flurry to match the character's smirking fury. The standoff scenes are mesmerizing.
"Public Enemy #1" also captures an unexpected emotional perspective, as Mesrine is faced with familial tragedies, including the sobering knowledge that he's abandoned his children while slithering around the globe. While still a pistol-packing playboy with a penchant for easily impressed women, Cassel boils the role down some, communicating a psychological exposure that assists in the feature's overall impact. It's one thing to be completely won over by the film's ferocity and interest in the twitchy relationships between criminals, but the move to explore Mesrine's vulnerability makes the enterprise substantial, perhaps moving, despite warnings at the openings of both films reiterating that "Mesrine" is not a feature of complete fact, but one of perspective, befitting a complex life.
"Public Enemy #1" soon moves into an unraveling period, where Mesrine's paranoia and protection of his reputation clouded his initial intent, alienating comrades growing unsure what France's most wanted truly craved for all his immoral effort. The picture concludes with a literal bang, putting a suitable capper on Mesrine's bizarre, brutal, wholly unexpected life, but also fits Cassel with a consequential finale -- a fitting end to a mesmerizing performance within a darkly spirited two-part feature film.
The opening moments of Mesrine: Killer Instinct filled me with dread.  Multiple, split-screen perspectives had me wondering if director Jean-François Richet had turned the film's protagonist, notorious real life gangster Jacques Mesrine, into a Thomas Crown-esque gentleman-criminal, or worse a comic book anti-hero.  I need not have been concerned.  I was not being set up for a fun filled heist romp.  Rather, the fractured frame sets up the life of the man who is the focus of each shot.  Though based upon Mesrine's autobiography, this two-part film adaptation (part one is Killer Instinct, part two Public Enemy No. 1) refuses to glamorize its protagonist.  Instead it paints a fascinating portrait of a psychopath with press-fuelled delusions of grandeur.
Though the films are 'based upon' the book that Mesrine himself wrote, it is made explicit from the opening moments that Richet and his co-writer Abdel Raouf Dafri (also responsible in part for last year's dynamite A Prophet screenplay) have extrapolated, as the film opens with Mesrine's death at the hands of the French police.  It then quickly rewinds to the first episode in his life that we are to witness.  Serving in the military in Algeria, he is commanded to execute a young woman in order to make her brother reveal the location of a bomb.  He shoots the brother.  Thus begins the films' four hour episodic journey, from petty crime through cold blooded murder, towards his inevitable death.
Mesrine's refusal to kill the girl sets up one of the many contradictions that he embodies.  He won't kill the Algerian woman, and later in the film he executes a pimp for beating a prostitute senseless, yet he forces a gun into his wife's mouth during an argument, and assaults most of the women he's seen with.  His numerous prison breaks are intricate and well conceived, while an attempt to rescue others is farcical and doomed.  His entire personality is tied up in the public's perception of his anti-establishment deeds.  He is contrary and compulsive, railing against captivity when he does far worse to others.  Towards the end of his life, fuelled by his own press, he drapes himself in the catchphrases and ideology of a political movement that his cunning mind seems barely to understand, but whose colors he is sure will grant him greater press-allure. But the press is as contrary as Mesrine himself, and the attempted murder of a journalist whose articles don't fall in line with Mesrine's self image inevitably leads to a backlash and his demise.
Vincent Cassel is superb in the lead role.  His Mesrine is brutal and savage, but with moments of utter charm.  He is Robin-Hood as he thumbs his nose at the judiciary and, once he has been caught you find yourself willing him over the walls and through the barbed wire fences to freedom, just as the French public did when he ignited their imaginations.  Yet within moments, Cassel turns him, seamlessly, into the snarling monster you knew needed caging from the start, and you fear for those around him.  This is the film's greatest strength in many ways.  It never lets you get carried away for more than a moment in the criminals life before forcing you to stare at the beast within.  We are complicit with the public who cheered him on, while those unfortunate enough to cross his path cowered before his rage.  To glamorize Mesrine would have been a great mistake, and it is one that the film, even taken as it is from Mesrine's own words, ably avoids.
The rest of the cast in both films ably support him, but special mention must go to Gérard Depardieu who dominates his scenes with a slickly-grim, intimidating presence as the crime-boss who takes Mesrine under his wing.  Also worthy of praise is Richet and Dafri's screenplay which, even at four hours with the two films combined, never drags.  Mesrine's episodic life sizzles from one caper to the next, the pace of the film matching his self-destructive path.
My only real concern is over the two part nature of Mesrine.  While Killer Instinct and Public Enemy No. 1 chart separate arcs in his life, neither really makes sense without the other.  I may often moan that films need their fat trimming, but this one fills its four-hour running time with ease.   I hope that at least the choice to watch them in a 'double-bill' format will be offered.  Your legs might fall asleep, but you certainly won't.
In the interest of full disclosure, Mesrine: Killer Instinct and Mesrine: Public Enemy No. 1 were screened free for members of the press.
France's former public enemy number one, a charismatic bank robber, kidnapper and killer who first gained notoriety in Canada, made a comeback Wednesday in a critically-acclaimed biopic.
Thirty years after the death of French gangster Jacques Mesrine, director Jean-François Richet has made not just one but two films about the notorious gangster's life.
Vincent Cassel plays the legendary bandit, having put on 20 kilos for the role, and a plethora of actors like Ludivine Sagnier and Mathieu Amalric accompany him on the screen. 
The first part, "Mesrine, the instinct of death" comes out in 500 French cinemas on Wednesday October 22nd. The second, "Mesrine: public enemy n° 1", comes out a month later, on November 19th.
Jacques Mesrine, "the man with a hundred faces", is without a doubt the most famous French gangster. 
This son of a businessman committed his first burglaries at the age of 23. Hold-ups, kidnappings, armed attack – the gangster's list is long and epic. 
His death under a rain of bullets from a special police force in the heart of Paris, at the end of October 1979, only contributed to his legend.
The film begins briskly, with a striking scene set in wartime Algeria, in 1959.
In an interview with Agence France Presse, Jean-François Richet admitted that this scene represents "the end of innocence" for Jacques Mesrine, in whom he sees "a kind of anarchist, an anti-establishment figure:
the guy who doesn't want to be stereotyped". 
This year-end's super production – 35 millions euros – showcases a violent character, crafty and ready to do anything to get what he wants.
The actor Vincent Cassel, who plays Mesrine, compares this two-part film to "two themes which complete each other". 
The first tells the story of a young man who is trying to find himself; the second that of a man who knows where his choices in life take him. 
The actor summarises it as follows: "The first is a film noir. The second, on the other hand, is more of a psychological thriller, the paranoia of a guy who knows intuitively how it's all going to end".
The film has earned a warm welcome from the French press. "Coherence, rigour and rhythm," writes the magazine Première; "a brilliant exercise in style", affirms Le Monde. 
Or even, "A powerful political attack on religion", says the arts magazine les Inrockuptibles.
For the film's opening, photographer Alain Bizos, who knew Mesrine well, is showing a series of photographs taken in private, the year of his death. 
He reveals the crook to be a character more than capable of humour and quite far from his image of public enemy n°1. For Bizos, these unique photographs re-establish the truth about the character. 
As for the film, he believes it's off the mark: "they make him out to be a right idiot, you don't feel the brilliant, smart and intelligent guy that he was".
 Still, the Cahiers du Cinéma talk of a "man moved by a conquering virility (…) a belief restored in the full powers of incarnation".
 Will the French people have enough appetite for a work in two parts?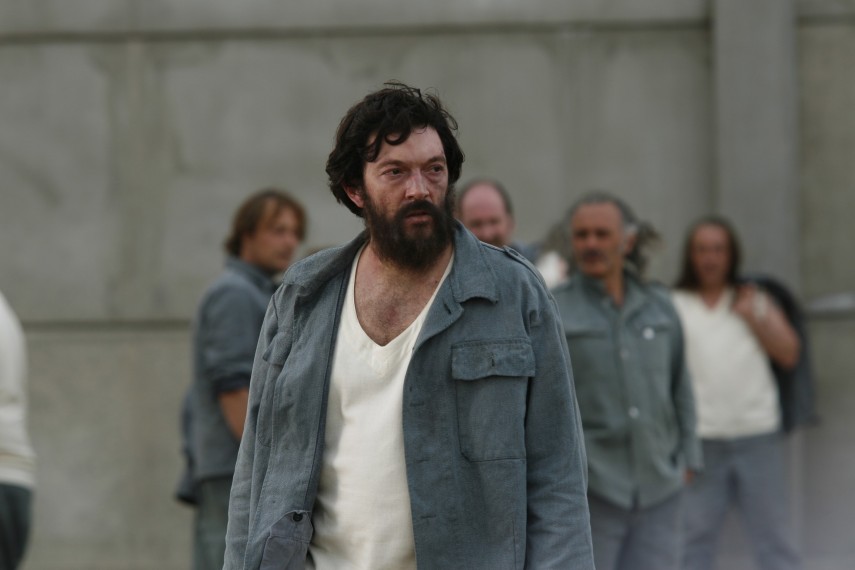 Two part film about the life and crimes of Jacques Mesrine. He ran roughshod over France, Canada and the United States in the 1960's and 1970's before meeting his maker in a hail of gun fire.
The film was released as two separate films (Part one is Killer Instinct. Part two is Public Enemy Number One), but in all honesty, other than a difference in feel between the parts this is really one four hour film. I can't imagine seeing these two film as stand alone films, especially with any time between them.
The first part takes Mesrine from his time in the French Army in Algeria through to his time on the run in Canada. It covers his marriage, his time away from crime and his growing notoriety. The second part has Mesrine's life from his return to France through his violent end.
I'm going to be honest here and say four hours is not enough to do this story justice. As amazing as Vincent Cassel is at portraying Mesrine, and as good as his fellow actors are, the film simply is trying to tell too big a tale in too short a time. Characters come and go, threads of his life are left hanging. The biggest loss was for me the relationship with his children. On some level its clear he loved them, but at the same time they are barely mentioned past a certain point. We are left with bits of a story that is more short hand. Actually much of the story is short hand (for example I was lost about their attack on the Canadian prison) and I ran to the computer when the film was done to get more details.
On the other hand as short as the film can be on story at times everything else is gangbusters.
Vincent Cassel has won a boat load of awards for his portrayal and everyone of them is deserved. Say what you will about anything else Cassel gives one of those portraits that sucks you and forces you to watch, even though things are either too brutal or not quite compelling enough. Cassel grabs you by the throat and makes you watch the film, nay, he insists you watch the film, all of it right now, even though you're too tired or its too late or what ever the excuse. When the first film ended I didn't even consider not watching the second part, I simply got up and switched the DVDs and kept going.
The rest of the cast is equally good, especially Gerard Depardieu as Mesrine's first boss and friend. As Mesrine finds out you may think he's a shnook, but he'll still take the gun from you belt without you ever knowing it.
This is an amazing film. It grabs you from the first, the day of Mesrine's demise is filmed with skill and style that you can't help but be drawn in. The film then flashes back and the film becomes a stylistic romp with the film filled with harsh blues and reds that accentuate the films tone. As the first film shifts from one part to the next the film shifts tones, becoming more realistic with the sharp colors of the night clubs and gangster hangouts of Mesrine's early life giving way to homes and apartments and the countryside where the events took place.
Say what you will the film is never boring. Sure you may wonder about characters or threads that have been left behind, but at the same time you're going to be wondering about how is Mesrine going to get out of this new scrape or situation. Come on, how can you not be draw in by a man who bargained with the cops for 20 minutes so he could get dressed and greet them with a bottle of champagne.
Its a masterful film...
Resource ( www.Unseenfilms.net )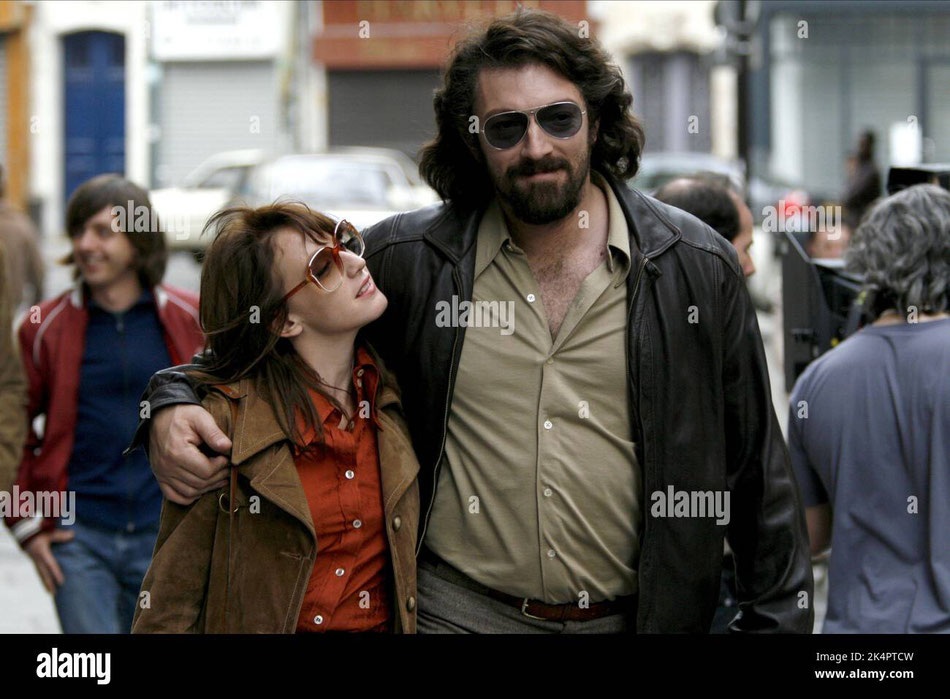 Jacques Mesrine / Story from Movie Amalgam & Film Creation / Cinemas Released 2008 / Great Piece / Protokoll 14.11.2022 
Bonnie & Clyde were machine-gunned down in Louisiana by a local posse. John Dillinger was all but assassinated by the FBI outside the Biograph Theater, just after screening the gangster-themed picture Manhattan Melodrama no less. Legendary French bank robber, frequent prison escapee, and criminal icon Jacques Mesrine was ambushed by authorities at the Porte de Clignancourt, where he was shot to death next to his lover Sylvie Jeanjacquot. Criminals of this sort seem propelled by something that won't let them quit; their crime spree lives drive them toward death. Courts don't know what to do with them; prisons can't hold them. Rather than face the repeated humiliation of allowing such criminals to continue undermining them in a public forum, authorities have no other choice but to take them down. Such tragic yet inevitable stories have been a part of cinema from Raoul Walsh's White Heat to Michael Mann's Public Enemies.
Detailing the latter part of Jacques Mesrine's life leading up to his unavoidable demise, Mesrine: Public Enemy No. 1 is the second part of director Jean-Francois Richet's diptych crime saga that began with Mesrine: Killer Instinct. Released in 2008 in France and having arrived in the U.S. in 2010, the films earned much acclaim for actor Vincent Cassell, the French actor from La Haine and Eastern Promises. The unfortunate month-apart and limited distribution of the two films prevented audiences from experiencing them as they should be seen: back-to-back as a double-feature. And while many critics will argue that the two films can be understood individually, the momentum of Mesrine's rise is awkwardly paused at the end of Killer Instinct, only to pick up with a vengeance within the first minutes of Public Enemy No. 1. Eliminating the gap makes them all the more effective.
It's difficult to judge the latter film on its own, if only because the two films are so organically linked. Given Music Box's truncated distribution schedule, I didn't see the second film until months after the first; and yet that long period between films didn't disconnect them. In true biopic form, the Mesrine story details the subject's criminal life from its inception to his violent death. Killer Instinct has no climax or narrative arc on its own; its themes and character's growth spill over into Public Enemy No. 1. And so, perhaps it is Music Box's faulty marketing tactic or a Kill Bill-inspired creative choice by Richet that these films were bisected, but they exist better as a whole. Viewers who see just one or the other will feel that they're missing something, whereas when seen consecutively, they feel like an epic—a biopic crime movie on the level of Bugsy or Scarface.
In Public Enemy No. 1, we find Mesrine back in France after his bank robbing bender in Canada from the end of Killer Instinct has ended. There's a series of arrests and jailbreaks that follow, always with Mesrine more concerned about his public image that his capture. During one prison sentence, he completes a manuscript for his autobiography (the basis for Killer Instinct) and revels in the attention it brings him. His final string of robberies is committed with a partner, François Besse (Matthew Amalric), with whom he executed a daring prison escape. Once free from prison, he carries out bold heists with Besse and meets Sylvie Jeanjacquot (Ludivine Sagnier), his companion for the remainder of his days. Yet, the crimes themselves are given less detail than Mesrine and his obsession with retaining the attention of the media and public. His public image ultimately does him in, however, after he retaliates to bad press by attempting to kill the journalist responsible—after a severe beating and gun shots to the back, the journalist miraculously survives. After that, Mesrine's public image wavers and the police hunt him down.
The question of identity rises. Who is Jacques Mesrine and what did he stand for? Based on Richet's two-part saga, even the man himself wasn't sure. He begins as a gangster, but then after enduring the French prison system, there's always an inkling of rebellion in him—as if he's still trying to undermine nonexistent prison walls around him by continuing to rob banks. As Besse learns, Mesrine becomes bored with robberies and assigns himself the title of revolutionary, aligning himself with Communist extremists to discuss taking on prison infrastructure. Terms like "gangster" and "revolutionary" don't really apply to Mesrine, and perhaps that's why Cassell is so wonderful in the performance. Mesrine is all about personality and energy, two characteristics that make Cassell such a unique performer. This is one of the great criminal performances in cinema, a despicable human being made genial through the actor's charm.
What's admirable about the production is that Richet avoids trying to define or assign biographical meaning to Jacques Mesrine. The films result in a mere window glimpse into their subject, jumping from this event to that because, frankly, there was just too much going on in Mesrine's life to capture it all (this is particularly true in Public Enemy No.1, which can sometimes feel like it lacks cohesiveness due to his never-slowing momentum). But the presentation mirrors the sort of locomotive-paced lifestyle that propelled Mesrine's criminal career and made him into a folk hero among the French, and Cassell's immense presence carries the character's magnetism straight through. As individual films, Killer Instinct and Public Enemy No. 1 leave the viewer wanting more, whereas viewing the films back-to-back at home will lend this impressive work the complete presentation it deserves.
Source / DeepFocusReview.com