Interview with Corey Taylor Part.1
The first thing Corey Taylor says when the conversation begins is, "Hey, I'm doing alright. It's all good. I just love the irony of me doing an interview in Ultimate-Guitar, hah hah hah." My response is that UG covers singers, keyboard players and drummers. Corey responds by saying, "I'm a little bit of all of those, hah hah hah. I'm holding it down." It is a telling statement from the Slipknot and Stour Sour singer because Taylor is not just the frontman for those two bands but a concert promoter - Knotfest is his creation - and novelist. But he is obviously most well-known as a singer and the conversation begins with another legendary vocalist who played a big part in Taylor's life as an artist. 
UG: What are your memories of first meeting Ronnie James Dio?
CT: We met a couple times in passing but it wasn't anything major. The real time I really got to officially meet him and hang out with was honestly right before he passed. We were both at the Revolver Golden God awards in LA. And we were both up for Best Vocalist. It's probably the one time I was rooting for somebody else to win because I'd just been such a fan of Ronnie forever. So I'm like, "Oh dude, he's gonna blow me out of the water. What? Are you crazy?"
Who won? 
Of course he won and I was stoked. I was doing an interview backstage and he'd just gotten the statue so he was coming down and me and Jose Mangin from Sirius looked over and there's Ronnie James Dio. I was like, "Holy sh-t." So we kind of dragged into the interview with us like a couple of little kids and we were like, "Oh, my god. Superman's here." We brought him in and I mean the dude was - what can I say? 
Ronnie was cool? 
You've probably heard it a million times but I can tell you just from my experience, he was one of the most down-to-earth, gracious, amazing dudes I've ever met. He was everything you want your hero to be when you meet him. The thing that was cool about him was he was humble but at the same time he was also very honest, man. He had no problem with calling bs on people especially old school and new school alike. I really loved that about him and I always thought that was so refreshing. I've definitely taken some pointers from it. 
Did Ronnie know about Slipknot and the kind of music you played? 
Yeah, man. He was very aware. He came into the interview and obviously I'm like a huge fan and I'm trying not to fan boy on him and I was totally fan boying on him, which I am wont to do half the time. He was like, "Likewise" and it blew me away. To have that kind of respect reciprocated, I wasn't expecting it. Let's put it that way. He really was very magnanimous about it and he was very, very cool. He knew my work and knew what I'd done and not only liked it but appreciated it. 
That must have been a remarkable moment for you. 
That's one of a handful of memories that I really, really cherish. 
What was it about Ronnie's voice that so touched you? 
He could just do anything. I think the thing that really infuriated me and other singers is that he just made it look so goddamn easy. You know? I asked him what his warm-up is and he's like, "I don't have one." And I just went, "Really? Do you just walk out like that? That sucks, dude!" I mean it sucks for me. 
What is your warm-up routine? 
I don't really have one either but I kinda do a couple of different things just to make sure I have a voice. He'd hit a couple notes and go, "I'm ready to go." The thing I loved the most about him is that he really could sing it all. He could sing the softer passages with a clarity and a beauty that is really kind of lost on a lot of people and especially with his style. There was such a great blend of what I considered classical and just raw roughness. So he could really ghost in-between the cracks and really be able to do anything. 
A great singer should be able to sing the ballads and the rockers. 
Lyrics / Song
I've known faces that have disappeared in time
Find me wrapped in glass and slowly soaked in lime
All my friends have pictures meant to make you cry
I've seen this and wondered what I've done to
Calcify!
(I ignore you)
As I close my eyes, I feel it all slipping away
(I come towards you)
We all got left behind, we let it all slip away
(I ignore you)
As I close my eyes, I feel it all slipping away
(I come toward you)
We all got left behind, we let it all slip away
I can't stand to see your thalidomide robot face
I don't even try it
You had to be a liar just to
Infiltrate me - I'm still drowning
(I ignore you)
As I close my eyes, I feel it all slipping away
(I come toward you)
We all got left behind, we let it all slip away
(I ignore you)
As I close my eyes, I feel it all slipping away
(I come toward you)
We all got left behind, we let it all slip away
Take this all away
Take this all away
I can feel it on my mouth
I can taste you on my fingers
I can hear you like the holy ghost
And kill you if you get too close
(I ignore you)
As I close my eyes, I feel it all slipping away
(I come toward you)
We all got left behind, we let it all slip away
(I ignore you)
As I close my eyes, I feel it all slipping away
(I come toward you)
We all got left behind, we let it all slip away
We let it all slip away
We let it all slip away
We let it all slip away
We let it all slip away
Interview with Shawn " Clown" Crahan / Unmasked
Interview with Corey Taylor Part 2
He could go from songs that were very sweet and poetic to stuff like "Stand up and Shout" for example or "Mob Rules" actually, which is more to the point. He could just gravel it up with anyone and I just thought it was killer. His range was ridiculous. His passion you could feel it and you could hear it and you just don't get that a lot. Especially with someone was doing it still exceptionally right up until before his death. At his age, a lot of guys from his generation start to drop the songs down a little lower, a little lower - I'm not gonna point out any names - and it just gets to the point where the songs are damn near unrecognizable. He was still giving it just as good as he got it and that's just huge, huge inspiration for me. 
Are there contemporary metal singers who will leave their stamp like Dio did? 
I think there's a handful. It's a different age and a different generation and people get into music for different reasons now. Without me talking a bunch of sh-t on people, you can usually tell the people who are kinda punching the timecard as opposed to the people who are genuinely invested in it. It's something in your soul that needs to do this. I mean there's a handful of 'em out there. 
Who would you name check as singers who are bringing it? 
Just off the top of my head, Lzzy Hale is definitely one who I think people really need to keep an eye on. Because as modern rock as they are, her voice is so gnarly and they are by far one of the best live bands I've seen. They do it for real and every note of it is for real. It's just something I think has never been captured in any of their recordings. I think they're really gona nail it with this next album. I think people are really gonna go like, "Holy god." There's a great blend between like AC/DC and Dio with that band and I mean that. That's just from an outside standpoint. That band is gonna change a lot of attitudes about things and she's an incredible singer. The more she gets out there and the more she does, the more it becomes painfully obvious she's not just a woman singer. She is just a badass singer. I'd put her up against any of these chumps that are in the bigger bands to be honest. 
How did you choose "Rainbow in the Dark" for the Dio album? 
"Rainbow in the Dark" is one of my favorite songs and it has been since I was a kid. When I was younger in second or third grade, we would run home to watch the brand new network - MTV, hah hah hah. It was destination TV and it was like, "Oh, my god, dude." You're seeing not only all these songs and bands you've heard but all this stuff you've never heard before. 
That's where you first heard the Dio song? 
"Rainbow in the Dark" was one of 'em. There was just something about that song and something about the video. The video was fairly simple but there was something about it that was just awesome. I can just remember that song getting stuck in my head constantly. It stayed with me over the years and it's still one of my Top 10 best rock tunes ever written - in my opinion. 
There was no doubt then about which Dio song you were going to choose for "This Is Your Life." 
When I got the chance to do this, I knew that was the song I wanted to do and luckily it was open. So I immediately called dibs. 
You really captured the spirit of that song. It had Ronnie's vibe for sure but it sounded like Corey Taylor. 
Thanks, man. You never want to do a carbon copy and you want to give it your own thing while at the same time respecting the original. Because if the original wasn't good you wouldn't be singing it in the first place. So yeah, we wanted to give it a modern vibe and at the same time not lose the soul of it because there's just something about the way that song is put together that makes you want to sing along. Of course I don't have Dio's pipes so we brought it down a little bit [lowered the key] and gave it a modern and darker vibe. At the same time we just kind of went for it and I think it came together really, really well. 
You're being roasted at the upcoming Roast on the Range with Sebastian Bach as emcee. What are you expecting? 
Well, it's a roast. If you don't know what a roast is at this point in your life then you shouldn't be involved in one to be honest. I know just from experience some people can take offense because they don't understand what the spirit of it is. I mean I was stoked me and when they said they wanted me to be the guy under the coals as it is. I was all about it. 
You can poke fun at yourself? 
Nobody makes fun of himself more than I do to be honest. I think the death of a sense of humor is to take yourself way too seriously. I learned a long time ago, I'm the last person who should be doing that, hah hah hah. You know? So I'm ecstatic and it's people I know and people I'm friends with and people I've met in passing. I think it's gonna be great. I feel bad for Sebastian, dude, because everybody is a target at these things. If he thinks I'm gonna get the worst, I think he's crazy. 
Sebastian Bach may be in the gun sights? 
Hah hah hah. Honestly? I couldn't have asked for a better roast master. It's like, "Which is the better of the two evils to go after?" I think it's gonna be great. 
You went through some darker times when you were younger so being able to laugh at yourself now must have taken a lot of healing. 
Yeah, for the most part. I've always been very extroverted. Let's put it that way. Maybe it's because I moved around a lot and I had to make friends on-the-fly. I was homeless off-and-on for a while. I had a rough childhood. Without getting into the nuts and bolts of it, there were a lot of times where my childhood sucked. So on one hand it gave me the ingredients that eventually came out in Slipknot, which was really the only way I was able to truly define and then let go of those emotions and that negativity and try to make something positive out of it. 
Finding music really saved your life in some fashion? 
But at the same time, I grew up and I was very much like, "Sure I'll jump off the roof. Sure. Why not? I'll take this food from lunch and shove it in my pocket and offer people ravioli. Sure - why not? Of course, it's school. Who gives a crap?" Maybe that was one of the reasons why I became the singer I am now. The thing I realized and maybe this was because I realized something in myself or I saw it in other people is that there is a very dangerous line can be drawn where you're either living or surviving. It really comes down to that. A lot of people who survive, use their past and upbringing as a crutch to get away with terrible behavior. Or to kind of hold themselves back from evolving and getting past it. Some of these people don't have the resources I've had and I've been fortunate to have in being able to express myself. Or maybe the talent and the tools to be able to try to do that. 
You're right. Not everybody has that creative outlet to find some sense of peace.
But at the same time it makes a lot of do really kind of linger in it and they dwell on it. They don't allow themselves to really start living. I have my bouts just like everybody else. I get locked in my own head and I curl up in my own defeatism and whatnot. 
That's hard to believe because you've had so much success. 
I can be an absolute c-cksucker to be around. But luckily I have great people around me who pull me back. They give me the proverbial slap in the face and say, "Snap out of it guy." I kind of trend a little more on the living side of the fence. What you gonna get dwelling in all that bullsh-t? It happened. All I can do now is try to make sure it doesn't happen to my family and doesn't happen to the people I care about. It's just simple. 
When you look back to the first Slipknot record, what that a cathartic time for you? 
Oh dude, yeah, hah. Trust me, I'm night and day from who that guy was because that little 25-year old kid was a f--king nightmare to be around a lot of times. I was moody; I was cross. I was a drunk and it was brutal being that guy. But I think I had to be that guy to get started. I let all that sh-t build up inside of me and I just f--kin' threw it up onto the tape basically. I mean you can hear me throwing up in a lot of that sh-t. 
You mean figuratively threw it up? 
I mean that's not a put on - that's me genuinely vomiting in that vocal booth. You wanna talk about one of the grossest moments ever? We were making our album and the band Amen - which is one of my favorite bands of all-time - were wrapping up their album. So me and Casey Chaos are sharing a vocal booth off and on. We're not in there at the same time but we're in there. I'm throwing up and he's cutting himself and there's this dead mouse in the boards that we couldn't find. 
You physically threw up in the studio? 
There's snot, there's ick, and there's that rusty smell of sweat in the wood, right? I was seriously like trying to do vocals in a f--kin' dumpster behind a medical waste plant, man. It was brutal. I think it was so real we had to be that real on that first album. Trust me there are moments where I'll smell something and I'll transport right back to that vocal booth and I just start retching uncontrollably. It's f--ked up but I'm glad it happened to be honest. 
Where were you mentally on the "Iowa" album? 
By the second album, I was pretty wrapped up in myself. It was a pretty dark time. I was pretty deep in a drinking problem and all of a sudden we were one of the biggest bands in the world and we didn't know how to handle it. It was gnarly. It was very, very close to that cliché of kind of falling off the edge. And that honestly lasted all the way up until right in the middle of recording "Vol. 3." 
That period from the first to the second album was more than five years. 
I mean it was a long time for me trying to get myself out of it. I was pretty much wasted during the recording and the touring of the first Stone Sour album and I was wasted the first three-and-a-half months of making "Vol. 3." It was bad. Luckily - I say that now - there was a pretty gnarly, dark night where the next day I woke up and I was like, "What the hell am I doing?" 
That was your bottom? 
It had gotten really, really bad. And the worst thing I could ever consider in my head was becoming a cliché. To me that is the worst kind of death because it means you're just basically walking down a path that's already been walked. I hate that. Normal to me is abnormal. I hate feeling like I'm going down a road that's already been traveled. It was from that moment where I sat up and started taking stock of who I was and what I wanted. It's still a work in progress but I'm keeping it together and hopefully I'm kinda giving inspiration to other people. 
That is a truly honest place to be coming from. 
Especially in our genre and our industry where it's almost expected for talented people to act like d-cks basically. Entitled pricks is what I like to say. I was like, "Well if that's gonna be one end of the spectrum, I'm going to represent the other end." Where, "Yes, you can have talent. Yes, you can be really good at what you do. But you can also be a gentleman and care about what is going on with other people." 
The concept of giving back is really important. 
That's not to say my ego doesn't get out of control sometimes but it's because I do try to rein it in that I've been able to take myself out of situations and make sure I look at other people's issues first. Before I can really do anything that's detrimental to myself or my family. Responsibility shouldn't be something you push off on an assistant. It should be something you take very, very seriously especially when you're an adult. That's just how I'm rolling. 
I really appreciate your honesty. 
It's all good, man. 
You talk about drinking during the recording of the Stone Sour album. But your vocals on songs like "Bother" and "Get Inside" were pretty remarkable. 
Yeah, I hadn't gotten that bad. I hadn't really hit rock bottom. I was still able to kinda get through it and for the most I really tried to stay sober while I was making that first Stone Sour album. We recorded that on our own. We recorded that in less than five weeks. 
That's amazing. 
Yeah, and I did all the vocals in four days. Let's put it that way. 
That is truly unreal. 
Yeah, which is unheard of these days. I mean it was insane. We recorded it in less than five weeks and then it was mixed in four days. It was probably one of the last independent albums we ever did. But it was cool and it was very wide open. It was a great blend of older songs and newer songs. It was a really good way to kick everything off. It's basically what a first album is supposed to be. It was like, "Here's all these songs we've had for years and here's all this other stuff we've written recently." So, I was pretty proud of it. 
Then a couple years after the first Stone Sour album you record "Vol. 3: (The Subliminal Verses)" with Rick Rubin. 
The weird thing is that there's still parts of that album that are hard for me to listen to because I know where I was at when I was tracking it. It was pretty dark and there's a lot of vocal takes that are actually on the album that I didn't like. Which is crazy because the album is great but I just knew I really only became invested in it about halfway through it. There's still stuff on there I'm on really proud of. 
Specifically? 
 "The Nameless" was me and a couple of different people coming up with that. "The Virus of Life" was a song me and Paul [Gray] put together. I mean there's great stuff on there that was pretty groundbreaking at the time not only for us but for metal in general. Just kinda being able to go, "Guess what? We have no rules so we're gonna do what the hell we want." So I think it was a great expansion album and there's some great songs that are still in our live set. My one regret is I wish would've been more together when we were making that album. But if it hadn't been for that album, I wouldn't be together today. So, so much for holding onto regret, right? 
Can a metal vocalist sing a ballad like "Through Glass" and still be considered heavy? 
[Much laughter] That's the thing - nobody told us what we couldn't do. I think that's one of the reasons why this band keeps reaching for what might be considered unattainable. That's why we forgo cliché or formula or anything like that is because we've always been able to do what we want and what we want just happens to work a lot of the time. It's a good freedom. It's a responsibility but it's a good freedom. 
Why do you say responsibility? 
I say reasonability because you're kinda left going, "Now what?" It's getting harder and harder to top ourselves. 
Which is a perfect segue into the album you're working on now. 
I can't really say a lot about what we're doing right now. Obviously I can say we are working on a new album but that's about it. 
That's all you can reveal? 
Yeah, we shut everything down because we want to bring back the excitement and the epic feel of what it feels like for a band to put out an album. So we've kinda gone anti-Twitter, anti-Facebook, anti-Instagram and anti-everything. You're gonna have to wait just like we're gonna have to wait. But I can tell you it's gonna be awesome. 
What was it like working on the "All Hope is Gone" album with producer Dave Fortnam [Mudvayne]? 
I had a great time working with Dave. He and I got along really well together. We had a blast. We were just kind of shooting ideas off each other, which is essentially what you want from a producer. I came into that Slipknot album more prepared than I'd ever been before. I'd written everything right up until the moment we went in and I was really stoked on it. I will say this about Fortnam - he was the only who really saw the potential in "Snuff." 
That was another remarkable and surprising Slipknot song. 
I had written that song specifically for Slipknot but I wasn't sure how I was gonna be able to pull it off basically. 'Cause there are guys in Slipknot that are like [in low gravelly voice], "What the f--k is this?" It wasn't a hard battle but at the same it was like, "Well, let's see what f--kin' happens." And Dave really had the vision for that song. He was like, "This is f--kin' huge. This is going to be huge" and really helped me get the guys on point and put it together. It f--king came out fantastic so I had a blast working with Dave. 
Obviously this new album will be the first one without Paul Gray. Does it feel entirely different without Paul there? 
Yeah, yeah. I mean it's always gonna be different and nothing's ever gonna be the same. It's a better way to say it to be honest. But all we can do is what we do. The way I've had to look at it is that not every great football team stays together and not every great band can keep doing it with the same people. It's the nice way of me saying that I can't just look at him as dead, which breaks my heart. I have to look at as, "One of our most important pieces is gone - how do we make up for that?" So it's basically us pooling our talents to fill in this vacuum that has been left. 
How is that going? 
We're in the midst of it and we'll just have to see what happens. 
Jim Root told me a couple months ago that he felt he had sort of channeled Paul Gray's energy in helping him write this new album. 
Let me tell you something about Jim Root - he is one of the best writers I've ever had the privilege of working with. The stuff that he comes up with? He's insane. 
Tell us one thing about the album. 
I will give you this on the new album - none of you are gonna see this comin'. And that's all I can say about it, hah hah hah. You have no idea. 
The departure of Joey Jordison has impacted the creative process? 
Well that's something that's a little harder to talk about. I can't honestly legally talk about it. That's all I can really say about that. 
You're bringing the Knotfest to Japan again? 
We did the first ever Ozzfest there. This will be our first time doing Knotfest outside of America, which is cool. We've got a bunch of stuff we're gonna be announcing in the next handful of months. We'll see what happens. We're gonna start building this thing even bigger. 
You saw promoting your own festival as the next logical business step for Slipknot? 
Yeah. Th
e cool thing about doing something like Knotfest is it can be a reflection of everything we love. Honestly our approach to music will most likely be the same approach to take curating and putting together the Knotfest. Which is, "Hey, if we like it, we're gonna put it on. We don't give a sh-t." Obviously there's gonna be a lot of metal but you never know. There could be hip hop, ska, punk, and old school hardcore. We listen to everything and that's why our music is so eclectic and in your face. We come from the heart - we don't come from the wallet. So for us we'll see. We don't have a set list of who's gonna be on it but I can tell you that it's not gonna be a one-note bill. It's going to be exciting and it's gonna be a reflection of how we approach everything. Obviously we're gonna have some of our friends on there but we're also gonna have some bands that maybe nobody's ever heard of before. I would love to put a band like Death Grips on there and see what happens. That's where we're going with it. We're coming from the heart with this and hopefully people understand the spirit of what we're trying to do. 
A few words on the Teenage Time Killer project? 
That was really cool, man. I've been friends with some of those guys forever and honestly it was my buddy who was working on the project with Reed Mullin. He just called me up and was like, "Dude, you wanna be on a tune?" and I was like, "D'uh." That's how I roll, man. Everybody asks me how I make time or how I choose the stuff I do as far as collaborations or guest vocals. I was like, "If I'm into the idea, I'll do it." I can't tell you how many projects I've turned down because it could easily be seen as a money grab. I'm not down for that. I want to do sh-t I'm excited about. Being on a tune with Reed? You kidding me. The man from CoC [Corrosion of Conformity] who laid it down. Sh-t, it is f--kin' rad, man. Yeah, I had a blast. To be on a record that's that eclectic with that many people because you've got everybody from me and Randy [Blythe] from Lamb of God to Jello Biafra for f--k's sake. Are you kidding me? I'm losing my mind. I can't wait to hear that album. I don't even give a sh-t about being on that album - I can't wait to hear that album. 
Everything else is good with you and you're happy? 
Yeah, I'm definitely in progress, hah. That's really what it all comes down to is being in progress. There are days that are better than others but I think that's part of life. If you expect every day to be sunshine and puppies, you are a very jaded person. 
Or very stupid? 
Well yeah, or way more optimistic than you really should be. People accuse me of being pessimistic sometimes but I'm like, "I'm not pessimistic. I'm pragmatic." I try to be realistic especially in this day and age when you just never know what's gonna happen, man. I've reached the age where life is taking things away now instead of giving me things. So I really have to kind of be careful of where I'm at and where do I put my happiness and where do I put all my energy. It's a shell walk and you're hopping back and forth between the shells and praying to God you don't fall through them. I just take it day-to-day now. I'm still planning five years ahead but I'm just enjoying every day for what it is. 
You take care of yourself. 
Yeah, man. Absolutely. You too, man. 
Sing all the good notes. 
I am trying to hit all the ones that don't rub. Let's put it that way. Alright, man. Take it easy. Bye.
Interview by Steven Rosen
Ultimate-Guitar.Com 2014
Green Colorization / Neon Lights / Slipknot / 
Interview with Chris Fehn
The UK has been waiting over six years for a full blown Slipknot tour. Now, in January 2015, it has finally begun. As the Prepare For Hell tour, featuring Slipknot, their long time brothers in metal KoRn and newcomers King 810 rolled into Glasgow on Sunday, Rock Sins was granted the biggest interview in our five and a half year history.
Our very own Lisa Fox sat down with Slipknot percussionist Chris Fehn (aka #3) for an in-depth chat about everything from censorship to golf. Yes, that's right, golf. Take it away Lisa and Chris….
Rock Sins: Hi how are you?
Chris Fehn: Good how are you?
I'm very well. Thank you.
Good.
First off, I know you're an enthusiastic golfer. Have you managed to get a game in while you're in Scotland?
Noo, its too snowy. I wanna play St Andrew's so bad.
St Andrew's has a wonderful golf course .
One day I'll get there. Yeah. I wanna play the old course though.
I'm sure they'd let you.
Well, that would be great.
How have the first couple of European shows gone?
Amazing. Amazing. There's so many metal heads up here. It's just… it's unbelievable. You know, they just come out in droves. We know they're in to it and it just makes the shows much better.
When Slipknot were starting out, Korn were the big boys in the metal world.
Yeah.
What's it like being on the road with them now?
Well, they were a huge part of life before I was even in Slipknot. I mean, I love that band. I'd never traveled to see bands, and I traveled to Minneapolis to see Korn, and I was blown away. The great thing is, they're amazing people, other than musicians. And that to me is the full package, because you never know. You meet a lot of people that are your idols and they turn out to be fucking assholes and these guys are nothing but gracious and good friends.
Is it like you're just hanging out with your buddies?
Yeah it's great because we all go through the same thing. We all know that things don't always go smoothly. Any band basically has all these things in common, and to have somebody that can empathise and you can talk to and they understand is huge out here.
I've heard that you guys are a lot calmer now than you used to be back in the day. Not just Slipknot, but Slipknot and Korn together. Is that true?
Yeah. I mean you can only burn so long you know? Then, age and responsibilities catches up a little bit. Slipknot is something that a lot of people enjoy so it's our job to make sure that we can deliver. Without having other things happen to you, that don't need to happen.
Lets talk about the new album. The Gray Chapter has been described as dark, like the new Iowa. Was that something intentional or was it a natural progression?
Yeah it was just organic. We never go in with a plan, its never like "okay this record's gonna be like this because we want this to be seen this way or heard this way". That's one good thing about this band; we don't try to please. It's just what we like when it's recorded, and we like it, then that's just the way it is, you know? We don't answer to anybody or any thing about it.
Custer has been getting a lot of radio play recently, but when it's they remove the swear words, do you think that impacts on the songs?
I do. I do. I hate that you know. There's so many songs out there that they'll all go [sound effects] or blip, the worst is when they re-do it with a different word. Yeah. I'm just like, "come on man". But I guess that's the world we live in. Even with the internet and how exposed kids are to things in this world. To me it is the least of the problems that we have. It's the least of the problems that are going on. But that's just…its just control,and people want control.
Plus surely you're not gonna be listening to this station unless you're listening for heavy music?
Right. Yeah it's beyond me yeah. I know. I don't get it.
A lot of your music is very poetic. There's a lot of amazing lyrics in Slipknot songs. Even Custer, "The son of a bitch is on his knees, the last man standing gets no pity" I love that line.
Yeah.
How do you as a band come up with those sort of concepts?
Well that's Corey Taylor. He's amazing man. I mean he's smart, he's a great lyricist. I mean, I've tried to write lyrics and songs, not for Slipknot but just on my own, just on a piece of paper. I'm just like wow, I appreciate him so much for his talent… And also it helps me play the songs live over and over and over and over. I've played these songs a thousand times but yet, it's those words that hit me as a person also. So I'm into it and it keeps me enjoying what I do.
So what keeps it fresh?
Well obviously a new record. Playing new songs live and seeing the reaction. That's always great because it's fresh and it's new which in turn makes the older songs important and more cool too. And you get to go back mentally, like I can go back to those early memories when I was playing Sic or People = Shit and I still get that same rush from those songs. So I mean it's just all good, all the way around.
Each time Slipknot finish an album cycle, it feels like we're counting down to hiatus. What inspires you to come back stronger each time? 
I think it's the fans. They never left us. If we were irrelevant and found that nobody took interest anymore I assume that would have an effect on it. But more and more people are coming now, younger kids and the kids that were 20 years old, they're 35 now, or the 30 year olds are 45. We have this big range of fans that have stayed loyal. We're very blessed in that respect.
You've got to be nearing the point where you've got the kids who first came to your shows bringing their kids to your shows.
Yeah. Yeah it's totally cool. Yeah I love it.
With the two new members, has the dynamic changed within the band?
Not really. Not really I mean it's still…it's still full throttle whatever we do. So they're basically doing their job and hopefully they get out of it what they need to get out of it. And the seven of us are still close, we are actually closer than we have been in a long time and it's a good thing.
Do you think the two new guys will become full members and write with you?
I don't know. I don't know. We haven't gotten that far yet.
You're just playing it by the day?
Yeah.
Slipknot grew very much through word of mouth and touring when you guys started off. How do you think you'd fare as a new band now because the world is so different?
Yeah I think it's incredibly difficult because of the way that record sales and everything have dropped off that to get a good contract, being a new band is nearly impossible. The way that the new deals are structured, you know they own everything. So it's like…it's really sad that record labels are struggling because they can't…they're just…it's all the internet. People don't really care anymore about sound quality. It's just eaten up so fast and it's so easy. You know, I'm guilty of it too. I'll buy records off iTunes just because I'm in my car and I want it right now and I do it. I do also have a huge CD collection. I still do buy CDs but I think… Man that's a good question. I think that we would still be different than what's out today, and we would still make an impact. So yeah, I don't know…I think if it started today as versus '99 we would still wanna be seen, I guess.
Would Slipknot ever go down the road of putting an album out yourselves or are you always gonna be a label band?
Obviously we have a contract. I'm not sure when that's up or what…you know when that's gonna be but we'll address it at that time.
Have you ever thought with all the hard times you've been through, fuck it I've had enough?
Yeah of course. I do that with video games even [laugh]. I mean that's just part of life but this is my life and sometimes it's hard and sometimes it's the greatest thing ever. It's an interesting profession to be in but music is my life. It always has been since I was a little kid. It's gotten me through everything. It's never lied to me. It's the realest thing on this planet to me is music and I have a very wide range of what I listen to so it doesn't matter who it is it's just…it's always the best thing. So I love being part of it in my own way.
Do you as a band and also as you as a person, get influenced by newer bands that are out there?
I don't personally. There's not too many things out that are new that I like. I'm still an old metal head I guess. So I continue to listen to that stuff. Once in a while I'll hear something new that catches my eye but it's usually something obscure. But other than that everything's just kind of stale.
Interview with Joey Jordison
That's an interesting comment, "everything's stale". Do you think that's something in your head or do you think that's something in the world in general with music?
It's just in my head. I can't speak for you. Because I appreciate any band that puts out a record and goes on tour and does what we do for a living. Its amazingly hard you know and it's difficult to continue to have passion for it on a night to night basis depending on what's going on in your personal life and within the band, within everything. But as far as being a music fan there hasn't been that next Pantera to me, there hasn't been that type of band… there hasn't been another Korn. There hasn't been another Slipknot to where I was like, "Wow man. I'm totally into it, I would go see the show". It just hasn't affected me yet like that.
It might, you never know.
It might. I don't look too hard though either, I really don't. I'm pretty into what I'm in to and it's probably my loss…I'm probably missing out on some things but… it's just I got a lot of other things to do too.
To what extent do you think that you bring the bands that you grew up with, with you and how does that then influence your musical style?
It's different for me because I play percussion. So it's like there's never been a band that I've listened to back in the metal days that had that. So I really don't…but I bring that love for metal and that attitude and that comes through on tape.
When Slipknot first started off there were nine of you and that's a lot of people in a band. There were a lot of suggestions that other bands would follow suit and they haven't really. Do you think there's a reason for that?
Maybe because we did it.
[Laughing]
They don't want to be accused of ripping off Slipknot?
Yeah, yeah. But you know yeah. I've seen other bands, I can't remember specific names, but I have seen other bands or other musicians play percussion or do some things live that we do… a DJ, you know stuff like that. But I mean that's just, it's part of music these days I guess.
The way that you and Clown interact on stage, and with the audience while playing really adds theatre to your performance. Not just theatre but the embodiment of what people love about Slipknot – the excitement, the energy, the uniqueness. Is that something that you feel on stage?
I don't know. I'm so close to it that I guess it's just…It's normal to me yeah.
So what's next for Slipknot?
The next show [Laughing]. It means its touring, and it is tough. Its tough, and so focusing on tonight is the main thing and then once the show's over, we figure out what time we have to leave and what's the next city because we have three in a row now. if we think too far ahead it demeans what's happening today.
Slipknot have always come across as being a very organised and thought out band, even before you were playing arenas. Maybe it's around you rather than necessarily something you do yourselves?
Yeah, obviously there is, there's a lot of planning that goes into to making this happen. So many people. The crew is amazing and getting everything set up and ready to go every night is very, very organised. There's still freedom, there's still chaos just everything normal that any band goes through.
So to close off the interview, the site that I write for is called Rock Sins. What is your biggest rock sin?
Sin?
Yeah like the seven deadly sins. So it can be something about you, something about the band, a story, something about you personally.
Like a religious sin? I mean obviously I'm not…I'm human there's been a lot. It just depends on what I want to reveal I suppose. I'll just say there's been many.
Probably still to come.
Yeah.
Thank you very much indeed.
Interview by Lisa Fox.
Interview with Corey Taylor No.3 / All Hope Is Gone 2008
Four albums in and Iowan metal crew Slipknot are still terrorizing the mainstream. I have no idea how they ended up there: this is heavy, heavy stuff. But their latest disc, All Hope Is Gone, ended up at #1 on the Billboard charts, so they must be doing something right. With a renewed focus on his side, singer Corey Taylor is overjoyed at the album, his fans and recent victories like the aforementioned #1 and a headlining gig at Madison Square Garden. The masked men are hitting up Canada with some tour dates supporting the disc, so we took a minute to catch up with Taylor and all things knotty.
What are you up to?
I'm very, very tired. Today I got up at 6:45 because I had to take my son to school. I made breakfast and lunch for him, packed the lunch, took him to school, came home, cleaned the house, went and worked out, came back here, made myself lunch and now this is the second of two interviews I'm doing today.
That's so not rock'n'roll.
Well, neither am I. What are you going to do?
So how's everything going in Slipknot land?
It's going good, man. Everybody seems like they're in a good place, but you know how we are. That could all go away in a ten-second period. Just the fact that my phone's not blowing up with emergencies and panic attacks... I'm loving it.
Now that All Hope Is Gone has had a bit of time to sit, how are you feeling about it?
I go through these phases where I just have to put it on. At first, I would start with the front half; now I listen to the back half. It just sounds great. You know how that is, you get an album and fall in love with the first five songs and then you throw it on again and realize the last five songs are killer. 
With All Hope Is Gone, you returned to a bit more of a heavier sound. Did that just feel like the right thing to do?
It just happened. We've never been the band that sits down and says, "We're going to sit down and make this kind of album." We throw shit at a wall and see what sticks, basically. With this album, everything felt dark. Everything felt really heavy. 
So would you say the album comes from a good place or a bad place?
It's heavy, it's aggressive, it's dark, but you sound very positive about it.
I think all great albums have that; it's all in the delivery. The lyrics I was writing were kind of both ways. I was raging on a political sense, and I've always had something against religion, but at the same time a lot of the stuff I was talking about started in a dark place but inevitably ended up in a positive place. I've always tried to put that in there, just saying,
'Yeah, shit's fucked up right now but it can be okay and this is why and this is how.'
So it's just something that I think is overlooked. We catch a lot of shit for being dark and whatnot but unless you're a real fan people miss the point where we're like, 'But it's alright. It's okay to be fucked up. It doesn't have to always be that way.' On this album, it was a great balance. That's what we finally found.
And then the album goes to #1 on Billboard. What does that mean to you?
It's very weird, man. When we were in the studio, I was the first one to say, "This album's going to be #1." Kinda just talking shit, but at the same time, you hope for it. You don't want to hope too much, but it's definitely one of those things on your list of "holy shit, this would be fucking awesome." So when it did go #1, it fucking blew me away. I was so fucking excited. I was really happy; I called everybody I knew and told them. I was very proud of that.
Everybody talks about how it felt to win the Grammy. But fuck the Grammy. That's seven old people sitting in a room deciding whether or not they've heard of your band. For me, it's always been more about the albums, the gold albums, the platinum albums, people showing up at your show.
That's your audience coming out and saying, "We fucking love what you do. We all do." The album was the same way; our fans gave that to us. We worked hard and we earned it but our fans gave that to us just as much as fucking SoundScan did.
Speaking of the live show, you recently headlined Madison Square Garden. How did a band that sounds like you guys do that?
That's a great fucking question, man. I don't even know, to be honest. I still trip on it. Leading up to it, it wasn't that big of a deal. I was like, "It's fucking Madison Square Garden, whatever." Then you show up there and it's like, "Holy shit, it's Madison Square Garden." Seriously, when the curtain came up and we're standing there and I'm looking at the Garden and we had damn near sold it out, my jaw dropped.
You couldn't see it because I was wearing a fucking mask, but it took me a second to get my shit together. I was nervous... I'm never nervous. It blew me away. When we finished the show, I came offstage, I just started balling. It was a heavy, heavy night for me. Nobody plays Madison Square Garden to make money, let's put it that way. It's very expensive to play. Someone told me it cost $50,000 just to turn the lights on in that place. So you don't really play there to make money. You play there because it's Madison Square Garden. It's a prestige gig. For me, it was just one more testament to how far we'd come.
So you get offstage at Madison Square Garden and you're balling; how come?
It was just big. I don't usually let shit like that get to me, but it was a big night, and it was a fucking great show. It was probably the best show we've ever had in New York. Everyone was just going insane. It sounded like everyone was singing every fucking word. It was just one of those golden moments. It was Maiden at Donington, it was Cheap Trick at Budokan, it was Aerosmith at the Texas Jam. It was fucking heavy.
The grind of this gig can break you down and make you very cynical but there's moments like that that make you sit back and say, "I am living a dream. Are you kidding me?
I get to do this for real?"
So I was giddy. I was 14 in my room reading magazines, just going, "Fuck, some day." And that day was that day and it made me very happy; I went backstage and hugged all my bros. I was sick as a fucking dog that night too, that's what killed me. I had a sinus infection, I had an ear infection, a 100-degree fever and it just all went away.
So where do you go from here though?
You've done Madison Square Garden...
Oh, it's gotta be downhill. Everything after this has just got to suck. [Laughs] In three years we'll be playing fucking clubs again, by my estimation. But honestly, I don't know. I definitely know where we want to go. Me and Clown have been conspiring for probably four or five months; we've got some ideas and some shit we want to do for the next album but... where do you go?
You headline MSG and it's damn near sold out. Where do you go? I guess you just keep going.
Something that's always cracked me up about you guys is you have these butt-ugly masks on and you look hideous and you have all these teenage girls screaming at you...
Exactly! What the fuck is that? [Laughs] I love it, man.
You must be laughing under the masks.
You have no idea. I smirk damn near the whole time I'm wearing that fucking thing. If you could read some of the letters I get... it's un-fucking-believable some of the shit these people ask me
When does grown men wearing masks become absurd?
I'm not sure, to be honest. We probably could ask Gene Simmons. I don't know... That's a good question. As long as it means the same to us as it always has I don't think there's a time limit on it. For us, it's not about the bullshit; it's about the content behind it.
At least that's the way it is for me. For me, it's always had much more of an artistic bent than anything else. So when it starts to become Chewbacca from Star Wars it's time to walk. As long as it still feels right and it means the same and it's not hokey and not bullshit. As long as we don't jump the shark, I think it'll be okay.
Slipknot / Album released 2010 / (sic) nesses
Slipknot's (sic)nesses DVD, which captures the band's June 2009 performance in front of 80,000 maniacal fans at the storied Download Festival in the UK, debuted at #1 on the Billboard DVD chart. The DVD impressively bowed ahead of "The 25th Anniversary Rock & Roll Hall of Fame Concerts" DVD featuring U2, Bruce Springsteen, Metallica, Ozzy Osbourne, Billy Joel, Black Eyed Peas and other hitmakers. (sic)nesses, which ARTISTdirect referred to as "the Taxi Driver of concert DVDs"  also marks the band's return to the #1 slot on the Music Video Chart; their first commercial video release, 1999's Welcome to Our Neighborhood, debuted at #1 on the Music Video Chart, as well.  Slipknot's last studio album, 2008's Platinum All Hope is Gone, also debuted at #1 on the Billboard Top 200 sales chart.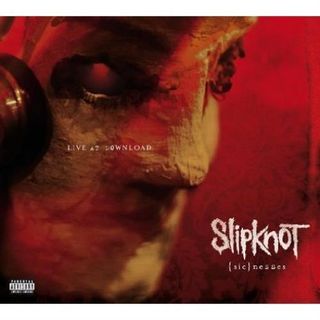 "(sic)nesses was one of the single hardest pieces of art for us to complete, given the circumstances," Slipknot's M. Shawn Crahan AKA Clown, who is the architect of (sic)nesses, said. "It's a testament to our evolution and proof of accomplishing exactly what we set out to do over 10 years ago.  We will never be the same. You will never be the same.  Here's to the future and our continuing evolution."
(sic)nesses' release was preceded by in-theater screenings across the country. An intimate fan screening in New York City, attended by Clown himself, saw fans moshing in the aisles during the presentation!
(sic)nesses is a demonstration of one of the greatest bands of 21st century at the top of their game. It is a global phenomenon, debuting in the #1 slot in the UK, Australia and Finland. It also landed in the Top 5 in Germany, Denmark, France and Belgium and in the Top 10 in Italy and Spain. Check out a clip from the DVD below, and get you copy RIGHT HERE.
Source: Roadrunner Records
Joey Jordison / Away from Slipknot / Just gone /
Slipknot drummer Joey Jordison has parted ways with the band he helped launch back in 1995. He co-wrote songs for the masked metal act and played on each of their four albums. As Blabbermouth points out, he has recently been devoting attention to new project Scar the Martyr, who released a self-titled debut in October via Roadrunner Records, also home to Slipknot and singer Corey Taylor's Stone Sour band.
The group made the announcement on the Slipknot homepage:
To our Maggots and fans around the world,
It is with great pain but quiet respect that, for personal reasons, Joey Jordison and SLIPKNOT are parting ways. We all wish Joey the best in whatever his future holds. We understand that many of you will want to know how and why this has come to be, and we will do our best to respond to these questions in the near future. It is our love for all of you, as well as for the music we create, that spurs us to continue on and move forward with our plans for releasing new material in the next year. We hope that all of you will come to understand this, and we appreciate your continued support while we plan the next phase of the future of SLIPKNOT.
Thank you, The 'KNOT
Jordison in October told Australia's Loud Magazine, "The future is bright with Slipknot; we aren't going anywhere." He went on: "You know, there's nine eccentric guys in the band and some of us like to be more active than others. I have so much material, I like to be busy all the time. It's like the seize-the-day type aspect on music and life … Right now my work is Scar the Martyr, but Slipknot isn't going anywhere. You can mark my words on that."
Slipknot have a new album in the works, the follow-up to 2008's All Hope Is Gone and their first since bassist Paul Gray died in 2010.
Slipknot -.5: The  Gray Chapter / 2014
Losing a close friend too early is something that no one should ever have to experience. It washes over you like an ice cold wave that instantly numbs your whole body. Once that wave recedes, you're left with a multitude of emotions you refuse to accept. You get angry at the world or at your friend for disappearing, but then you get angry at yourself for ever thinking such an awful thing about someone you loved. You feel helpless.
You think, "If only I had done this thing or that thing, I could've helped," even though there really was nothing you could've done.
Then there is a persistent and overwhelming sadness that will always be there. It's totally normal to have, and it eventually morphs into a warm contentment, because you did have all that time with them. You can open a photo album and remember when the photos were taken. You can know that whatever happens, the stories you shared with that friend will always be with you.
Plenty of albums have been written about and for lost loved ones. Many are outpourings of sadness and longing and confusion. Few of them display the full cycle of emotion — from anger to sadness to acceptance and everything in between. But the newest album from masked metal marauders Slipknot, .5: The Gray Chapter, runs the gamut. Written about the death of founding member, core songwriter, and bassist Paul Gray, who accidentally overdosed in 2010, it's heavy and pissed off and loud, but it also has moments of pure, calm honesty.
.5: The Gray Chapter is Slipknot's first album in six years, following their platinum-selling All Hope Is Gone, and the first without not only Gray, but their long-time drummer Joey Jordison. The loss of these key members forced the other bandmates to dig deep to fill the void.
In the press release for the album, guitarist Jim Root said that he started writing songs after Gray's death the way he and Gray used to in the past. "When we were making previous records, I'd always go to Paul's house and learn what he was demoing. Last November [2013], I put my head down, opened up my Macbook Pro, and started writing at my computer every day … It hit me like a ton of bricks one day, 'That's what Paul used to do when he wrote.' … It made me feel like, 'Shit, he is with me. He's helping me get though this process.'"
The opening track, "XIX", begins with quiet, dark organs and machine glitches. A voice whispers, "This song is not for the living. This song is for the dead." The organs continue as Corey Taylor's gruff voice screams, "Walk with me just like we should've done right from the start," before everything breaks down into unresolved tension.
It's an ominous start, as Taylor leads the listener down a path that eventually flows into a full-on pummeling in "Sarcastrophe".
The angry side of the grieving process dominates songs like "Skeptic". The track channels the most unrestrained rage on the album, as Taylor screams in the chorus, "The world will never see another crazy motherfucker as you/ The world will never know another man as amazing as you." It fits what Taylor said in the previously mentioned press release:
"I'm definitely not sure I've accepted it, but I deal with it. We're saying what we've been feeling. We're so angry at you, but we love you so much." The drums and guitars are heavier than anything fans have ever heard from Slipknot, and Taylor's voice is as raw and powerful as it was on the band's breakout, Iowa.
Taylor's voice is somewhat of an anomaly in the metal world; he can pull off lighter melodic singing as well as he can his vicious growl.
Story behind Paul Gray
Every one who knew original Slipknot bassist and songwriter Paul Gray says pretty much the same thing: the guy was super-nice, incredibly friendly and never reeked of rock star ego. The few times I interviewed Gray I found him to be totally accommodating, brutally honest, and extremely proud of the music he wrote and played with the band he loved and loved to talk about. Even when it came to describing something as old-hat as how they got their name, Gray spoke with the enthusiasm of someone telling the story for the first time.
"We had a show booked and we had a song called 'Slipknot,'" he told me. "It was the first song we had written full-on, which became 'Sick,' which was the first song we ever started working on even before [ex-drummer] Joey [Jordison] was in the band. We all thought the name Slipknot rolled off the tongue pretty easy and we needed a name so we could play the show. We did one other show before that and we were called Meld, but we didn't like that at all. So we went with Slipknot. And that show, people just tripped out. They'd never seen anything like it.
After that, we couldn't really change the name."
Gray was like a glowing mass of energy that bounced around the room, affecting everyone it touched. But he definitely had his dark side and no matter how hard he tried, he was unable to kick his drug habits for long. When I sat backstage with him shortly before the band released All Hope is Gone, the last record he toured for before his tragic death on May 24, 2010, the bassist admitted that his addiction to heroin spiraled so far out of control in 2003 while the band was working on Vol. 3: The Subliminal Verses that the band eventually staged an intervention.
"I would spend half the time in the bathroom shooting up," he revealed. "I'd be trying to play, and I'd fall out of my chair a couple times and fall asleep in the middle of tracking a song. Once you get to a certain point with drugs it's f–kin' so hard going through withdrawal. It's not that you don't want to quit. You just can't. Halfway through the record I ended up going to rehab."
Gray was finally able to kick heroin after his girlfriend and future wife Brenna gave him an ultimatum. "She said, 'I can't sit around and watch you kill yourself,'" he says. "I was living in L.A. at the time, which wasn't helping because it was so easy [to get drugs]. So, I moved back to Iowa with her and went to my doctor and got straightened out. And it's been a good couple years now that I've been clean."
When Slipknot released All Hope Is Gone on August 20, 2008, it seemed like there were other band members who were far more spun-out than Gray.
For two years, the band toured for the album and, while chaos reigned, Gray seemed to thrive in the maelstrom, rocking out in his demonic pig outfit, and hanging out and sharing laughs with percussionist and co-founder Shawn Crahan, guitarist Jim Root and vocalist Corey Taylor after the shows. It seemed like Gray, with the help of his wife and bandmates, had taken control of his personal demons and was living a clean life.
That's why it was such a shock when, on May 24, 2010, the Des Moines Register reported that Gray's body was found at the TownPlace Suites Hotel in Johnston, Iowa at approximately 10:50 a.m. local time. He was 38. A hotel employee said there was a hypodermic next to Gray's bed and pills scattered across the room. Forensic tests later revealed that Gray died from an accidental overdose of morphine and the painkiller Fentanyl, had a substantial quantity of the anti-anxiety medication Xanax in his system and showed signs of "significant heart disease."
Devastated by Gray's death, the surviving members of Slipknot, Gray's widow and brother, Tony, held a video press conference the next day. During the teary event, vocalist Corey Taylor said, "The only way I can sum up Paul Gray is love. Everything he did, he did for everyone around him whether he knew you or not. …I will miss him with every fiber of my heart, as will everybody at this table and everyone who knew him.
He was the best of us."
While Gray's wife, Brenna, pregnant with their child at the time, presented a united front with the rest of Slipknot, she changed her tune in the years that followed, taking legal action against Gray's physician (who was eventually acquitted of seven charges of manslaughter charges) and pot shots at members of the Knot. "One was playing golf two minutes away from our house [when Gray was suffering from a spiral of drug abuse], but couldn't come," she testified in April, 2014, reported the Des Moines Register. "Nobody else cared, nobody was involved. They told me it was my problem."
Gray's wife testified in Polk County District Court that Gray relapsed in 2008 and the last weeks of his life were a haze of addiction.
On May 22, 2010, Gray left home and checked into the long-term stay hotel after his family tried to stage an intervention. Brenna Gray told the media that she didn't call police because she was afraid they would find drugs stashed away at the couple's house and her unborn child would be taken from her. After two days of being unable to reach Gray, his relatives asked the hotel staff to check his room and see if he was okay.
When they discovered the bassist's body they immediately called police.
Gray was buried on May 28 in a private funeral at the Highland Memory Gardens Cemetery in Iowa. In 2011 Slipknot played a series of shows in Europe. The band's former guitarist Donnie Steele played bass for the shows and on the band's headline Mayhem Fest appearances. He remained with Slipknot until 2014, when he was replaced by bassist Alessandro Venturella.
Loudwire contributor Jon Wiederhorn is the co-author of Louder Than Hell: The Definitive Oral History of Metal, as well as the co-author of Scott Ian's autobiography, I'm the Man: The Story of That Guy From Anthrax, and Al Jourgensen's autobiography, Ministry: The Lost Gospels According to Al Jourgensen.
Slipknot / Goodbye / Paul Gray in the first sequence / 
 Outlaw  // Cried when Corey does say Goodbye / In loving memory to our so sincere Paul Gray
Slipknot Interview / First Published 3.August 2005
Slipknot, conservative America's worst nightmare, have just released their third album, Vol 3 (The Subliminal Verses).
Just when you thought that they could not progress or evolve beyond just wearing "scary" masks and howling like violent creatures of the underworld, the nine-piece band have surprised everyone by moving closer to the basics of rock music.
Just crank that up in your home stereo," boasts percussionist Chris Fehn (aka #3). "You're going to be very impressed by what we're able to achieve." musicOMH caught up with Fehn and bassist Paul Gray (#2) to find out more…
The band that put Iowa on the rock 'n roll map has come a long way, Maggot. All the way to Los Angeles in fact, to legendary producer Rick Rubin's Houdini Mansion, the rock 'n' roll equivalent of its Playboy counterpart, where Vol. 3: The Subliminal Verses was recorded.
"Everybody had a good time, but it was pretty much business," says Chris. A business which they entrusted to Rubin, choosing him over Ross Robinson, who had produced their first two albums, and without whom, Chris admits, "There would be no Slipknot. Point blank." According to Chris, Rubin was the "obvious choice other than Ross. I'm not sure exactly how he got involved. I know he came to see one of our shows in Los Angeles a while back."
He also produced percussionist Shawn "Clown" Crahan's excellent side project, To My Surprise. "We're very lucky that we're able to work with good producers like Ross and Rick," Chris says. "And it's definitely another step for the band as far as just trying something new and keeping everything fresh."
"There would be no Slipknot. Point blank." – Percussionist Chris Fehn on the debt Slipknot owe to producer Ross Robinson. They didn't use him for their new album though
The choice was also driven by the band's new desire for melody. "We know what a good song consists of. It just shows the maturity of the writing that we do now. We can write a heavy record every day if we want to, but this time we really wanted to do some other things with melody and stuff like that."
Rubin's magic touch has worked wonders. "He basically told us, 'Your sound is very constrained. Don't be afraid to go towards that other spectrum and do things that can still be heavy but in a different way.' So that opened the door for us to try a lot of new things like melody, acoustic guitars, violins and pianos, all this stuff that we would've never thought of trying before," says Chris.
Did Rubin need to put pressure on to get them going?
"Not with nine guys! The only thing we were worried about every once in a while was how much time we had. We ended up writing some of the best songs at the last minute."
Chris reveals that part of Slipknot's sound broadening was related to how singer Corey Taylor had demonstrated his vocal range on his side-project, Stone Sour.
"Corey's a great singer, so we wanted to utilise his talent. It turned out unbelievably."
Stone Sour may have provided a good exercise in retraining Corey Taylor's voice but his involvement in that band also heightened rumours of a break-up, especially with Crahan and drummer Joey Jordison also releasing side-project albums and publicly speaking about tension between band members.
Slipknot / Killpop /Official Video / 
She's sticking needles in her skin
I turn with an ugly grin
Her canvas doesn't leave a lot, to fantasy
But her peace of mind, can't stay inside the lines
It's so, confusing, the methods that she's using
She knows she shouldn't leave a mark, that I can see
Will she ever find, one million of a kind
It's cold and lonely, but that's because she told me
Lost inside her dirty world
No one hurts this pretty girl but her...
Oh, she's beautiful
A little better than a man deserves
You are not insane
Please tell me she won't change
Maybe I should let her go
But only when she loves me (she loves me)
How can I just let her go?
Not until she loves me (she loves me)
She's drowning in herself again
My god what a lovely sin
I guess there's nothing left to do, but have my way
She can feel it's right, so she doesn't close her eyes
She smiles and answers, it doesn't seem to matter
Lost inside my dirty head
Something tells me I'm the one who's kept...
Oh, so volatile
A little better than a man defiled
Oh I need the pain
Please tell me she won't change
Maybe I should let her go
But only when she loves me (she loves me)
How can I just let her go?
Not until she loves me (she loves me)
We were meant to be together
Now die and fucking love me
We were meant to hurt each other
Now die and fucking love me
Die and fucking love me
Die and fucking love me
Die and fucking love me!
Slipknot 9.0 : Live ( SIC )